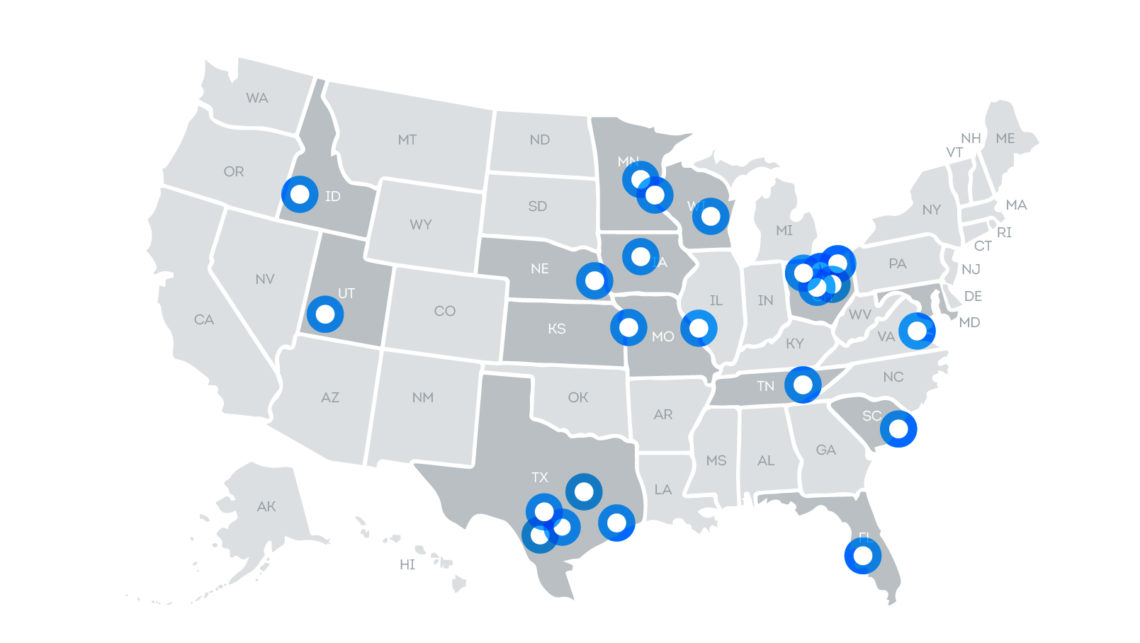 Epcon Franchising is pleased to announce the addition of 23 new Franchise Builders in 2020. They will build their first Epcon communities in 14 different states.
The new Epcon Franchise Builders are:
Cook Bros. Homes, Knoxville, Tennessee: Cook Bros. Homes has specialized in building semi-custom homes for retirees since 2004. Their first Epcon community will be in Lenoir City with 67 homes. They are also planning a second Epcon community in Tellico Village.
Aspire Homes, Omaha, Nebraska: Legacy Homes (dba Aspire Homes) is a large regional builder in the Omaha and Lincoln, Nebraska markets. As an Epcon Franchise Builder, they plan to add offerings that are popular with 55+ buyers to their building portfolio.
Premium Builders, Kansas City, Kansas: Premium Builders own and manage more than 300 rental properties in Kansas and Missouri under their real estate investment and property management companies. They plan to build their first Epcon community on the Kansas side of the metro area.
Simek Property Group, Minneapolis, Minnesota: Meridian Management (dba Simek Property Group) has completed several multi-family projects, apartment renovations and urban infill developments. They plan to start with two Epcon communities on the eastern side of Minneapolis.
Pinnacle Properties, Ames, Iowa: Since 2003, Pinnacle Properties has built more than 100 high-end custom homes, 100 townhomes and condominiums and 600 apartment units, and has sold 200 residential lots to other builders. Pinnacle Properties will start their first Epcon community in Ames this year.
M.A. + Associates, Washington, D.C.: M.A. + Associates is a government construction management consulting firm, handling primarily large commercial projects. They plan to break ground in the next year on their first Epcon community in Maryland.
Thomas Group Development, San Antonio, Texas: Thomas Group Development will under the direction of Matthew Thomas, son of Roger Thomas, a longtime Epcon Franchise Builder in the Atlanta area. They plan to secure a first project location on the northeast side of the San Antonio market.
Twentieth Century Construction, Cleveland, Ohio: Twentieth Century Construction was founded in 1981 and they have built hundreds of homes in Northeast Ohio and Southwest Florida. They are under contract on a first Epcon project in the town of Bainbridge, a desirable suburban market located southeast of downtown Cleveland.
ROC Homes, Houston, Texas: Founded in 2002, ROC Homes has been building infill custom homes within the Sam Houston Tollway loop. Epcon's product will allow them to pursue opportunities outside of the loop and to do larger projects with repeatable and scalable volume.
True Homes, Boise, Idaho: True Homes was founded by lifelong homebuilding professionals with experience both nationally and locally. Their desire is to be the face of Epcon Communities in the Boise area and they plan to build their first Epcon community in the desirable area of Eagle.
Draw Homes, Cleveland, Ohio: After over 20 years of experience in real estate, remodeling and managing rental properties, Draw Homes will be building their first Epcon community. They are focused on procuring a project location on the west side of the market, specifically in the Avon and Westlake areas.
Reisch Sansone Communities, St. Louis, Missouri: Reisch Sansone Communities is off to a fast start on their new franchise, having already procured two project locations. The first will consist of around 45 lots in the town of Dardenne Prairie, and the second will be an exciting waterfront project at the Lake of the Ozarks.
Jayabheri Real Estate, Austin, Texas: Jayabheri Real Estate has been selling land parcels and building custom homes for several years. They will add Epcon homes to their portfolio to scale their business, and are considering the Cedar Park and Leander areas of Austin as well as the Waco market.
New Leaf Homes, Akron, Ohio: Gables Management Company (dba New Leaf Homes) has been involved in the construction industry in Northeast Ohio for many years, having built high-end senior care facilities and developing finished lots in Cleveland and Akron, including for another Epcon Communities franchise.
Kept Classic Homes, San Antonio, Texas: Caprock Development (dba Kept Classic Homes) is led by an established commercial developer since 2001, and is diversifying their their business to pursue opportunities in 55+ housing. Their territory comprises the northwestern area of San Antonio.
Atkins Development Group, Appleton, Wisconsin: Atkins Development Group has historically specialized in moderately to premium appointed homes in Green Bay, Appleton and other northeast Wisconsin areas. They have procured a site in Appleton for their first Epcon project.
Middle Bay Homes, Tampa, Florida: Middle Bay Homes is a partnership between Will Daniel and Cory Frier, who left top-level positions at James Hardie to build an impressive business of custom infill projects in Tampa. Their initial market area is located in Hillsborough County, one of the fastest-growing areas of Tampa Bay.
RJ Lifestyles, Columbus, Ohio: RJ Lifestyles is a partnership run by AJ Lall and Ankur Gupta in Central Ohio. AJ and Ankur build high-end custom homes in Franklin and Delaware Counties and plan to build an Epcon Communities project in the growing exurban market of Sunbury.
Choice Builders, Cedar City, Utah: Choice Lifestyles is spearheaded by the owner of Choice Builders, one of Southern Utah's premier custom builders and general contractors. They will bring the repeatable and scalable business model of Epcon to the growing markets of Cedar City and St. George.
Center City Homes, West San Antonio, Texas: Adam Sanchez, founder and owner of Center City Homes and Diamante Custom Homes, is looking forward to adding a luxury 55+ component to his business. He will be developing his first Epcon project on the western side of the San Antonio market.
Carrell Homes, Myrtle Beach, South Carolina: Bruce Carrell of Carrell Homes is a long-time custom builder in the Myrtle Beach market. He is excited to supplement and simplify his business through production building, from the North Carolina line down to Pawley's Island.
REM Developments, Granville, Ohio: Our last (but certainly not least) new Franchise Builder in 2020 is REM Developments, headed by Dennis Grech and Chris McCray in Granville, Ohio.
Epcon offers Franchise Builders the ability to tap into the 55+ market by giving them access to resources that have been developed over more than 30 years. Epcon Franchise Builders benefit from proven home designs, development strategies, marketing resources, sales guidance, national buying programs and a network of Franchise Builders.
Learn how you can become an Epcon Franchise Home Builder.