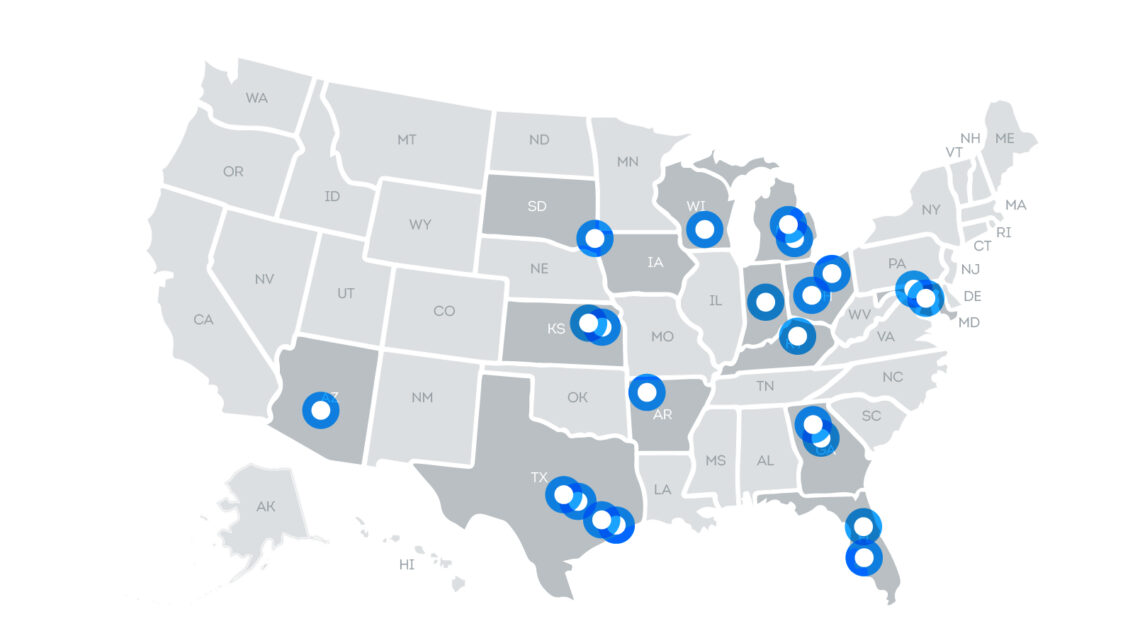 Epcon Franchising is pleased to announce the addition of 22 new Franchise Home Builders in 2021. They will build their first Epcon communities in 14 different states.
The new Epcon Franchise Builders are:
Kelly Construction, Sioux City, Iowa and Sioux Falls, South Dakota: Kelly Construction has been in real estate for 20 years, having built a number of single-family homes and two townhome communities. They have also been involved in historic renovation and commercial development.
Artisan Communities, Dayton, Ohio: Artisan Communities is a father-in-law, son-in-law team, with familial ties to Epcon. They plan to build their first Epcon community in Beavercreek, a suburb of Dayton, Ohio.
Urso Lifestyle Communities, Madison, Wisconsin: Urso Lifestyle Communities is devoted to building quality, one-of-a-kind dream homes in McFarland and the surrounding areas. They already have a great site under control for their first Epcon project.
Marquez Enterprises, Kansas City, Kansas: Over the last 10 years, Marquez Enterprises has grown a sizeable portfolio of rentals and residential rehabs and is currently working through a 60-unit project of new construction attainable housing.
Baig Development, Detroit, Michigan: Baig Development has a long family history of homebuilding prior to immigration to the United States from Pakistan. They have vast experience in both small business operations as well as the real estate market.
Minico Group Communities, Detroit, Michigan: Minico Group is led by Dominic Torres, a self-employed general contractor and custom builder. They are searching for an Epcon project in the areas of Oakland and Macomb Counties north of downtown Detroit.
Southwest Sunset Holdings, Austin, Texas: Led by Cory Nikolaus and Albert Bernal, Southwest Sunset Holdings will be starting two Epcon projects – one in far west DFW and another in southwest Austin.
Crosslane Construction, Lexington Park, Maryland: Crosslane Construction is led by Mike Taylor, a construction professional with over 25 years of industry experience. They are working to identify a first project location south of the DC and Baltimore metro areas.
HW Monroe Company, Baltimore, Maryland: HW Monroe Company is led by Scooter Monroe, who has spent several years working in land development for large organizations in the Baltimore and DC metro areas. Their initial market area is located between Baltimore and Annapolis.
Atteberry Homes, Kansas City, Kansas: Led by Paul, Mary and Ethan Atteberry, Atteberry Homes is a net zero energy home builder in the Kansas City market. They are working to secure their first Epcon project location in the south of Kansas City on both sides of the state line.
Vita Nova Construction, Austin, Texas: Vita Nova Construction is led by Blake Vaughn and Jeff Lott, who will pursue projects in the northern part of Austin. The business partners have also owned a construction business, an insurance restoration franchise, two logistics companies and a consulting company.
Second Half Properties, Tampa, Florida: Second Half Properties LLC of Central Florida is led by Joe Franz, a Long Island native who has lived in Florida for over 20 years and owns over 100 properties in Tampa. They will now turn to 55+ homebuilding.
Lewis Patrick, Atlanta, Georgia: Lewis Patrick LLC of Georgia is a partnership between Joe Wilson and Raymond Sams. Ray has been an entrepreneur in the Atlanta area for many years and Joe comes from a sales background. They are working to identify a first project location in Cobb County.
Ryan Barrett Homes, Houston, Texas: Ryan Barret Homes is equally owned by Greg Stessel, Vicki Stessel and George Kawaja. They have worked together since the mid-80's and have built thousands of homes during their careers. They are excited to be back in production building with Epcon.
Daugherty, Indianapolis, Indiana: Eric and Trisha Daugherty of Daugherty, Inc. have purchased, renovated and sold over 50 homes, and have also owned other franchise businesses in the past. They are ready to take the next step in their business with a 55+ project.
Victoria Quality Homes, Orlando, Florida: Victoria Quality Homes is comprised of Edson Pagotto, Rodrigo Almeida and Flavia Almeida – all of whom are originally from Brazil and now reside in Florida. They will initially focus on the booming Orlando market.
Great Places, Northern Kentucky: Great Places LLC is a partnership of Dave Noll, Matt Tobler, Dave Neff and Larry Ruehl, who have all done commercial contracting, multi-family development and scattered custom building in recent years. They will reintroduce Epcon to areas of the Cincinnati market south of the Ohio River.
Dominion Capital, Atlanta, Georgia: Phil Butler, a successful entrepreneur in financial services, will be taking lead of Dominion Capital and will have two other partners, Waldron McCritty, an entrepreneur himself as well as a developer, and Don Norwood, who is experienced in real estate investing and rehabbing.
Perrino Lifestyles, Avon, Ohio: Pat Perrino has been in the homebuilding industry for over 30 years, all based in Cleveland, Ohio and surrounding areas. His son, Tony Perrino, owns three businesses and was a superintendent for his father directly out of high school. Both look forward to the Epcon opportunity.
Riverwood Homes, Northwest Arkansas: The Marquess family of Riverwood Homes has built over 3,000 homes and is proud to call Northwest Arkansas home. They plan to expand into active adult communities quickly and efficiently by leveraging the Epcon business model.
Lake Pointe Development, Houston, Texas: Mohammed Jamil is an investor and multi-unit franchise owner, currently working with a Houston builder/developer to build townhomes and patio homes. He is seeking to operate at a larger scale and provide opportunity outside of the Houston loop.
Valerian Homes, Phoenix, Arizona: Valerian Homes is led by Ana Burciaga Anaya and Miguel Torres Pompa. Miguel started a home flipping career in 2010 and has recently started with new builds, building around three homes per year. He has aspirations to become a full-time developer and builder.
Epcon offers Franchise Builders the ability to tap into the 55+ market by giving them access to resources that have been developed over more than 35 years. Epcon Franchise Builders benefit from proven home designs, development strategies, marketing resources, sales guidance, national buying programs and a network of Franchise Builders.
Learn how you can become an Epcon Franchise Home Builder.