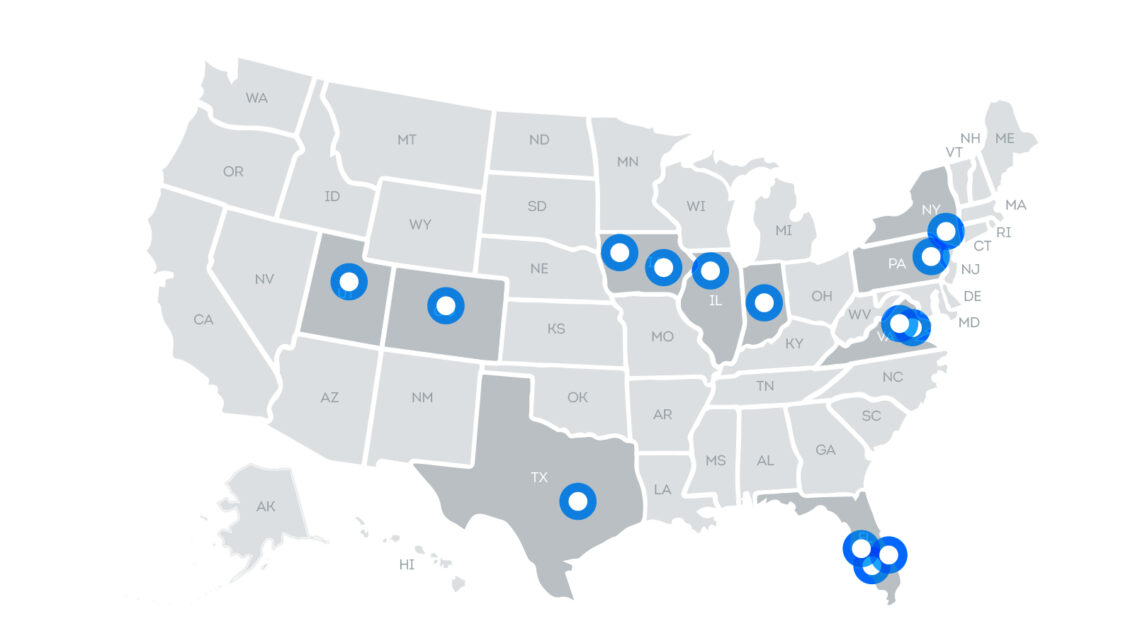 Epcon Franchising is pleased to announce the addition of 14 new Franchise Home Builders in 2022. They will build their first Epcon communities in 10 different states.
The new Epcon Franchise Builders are:
Razvi Homes, Long Island, New York: Razvi Homes is owned by Syed Meesam Razvi, founder and CEO of a last mile logistics company and a former UN representative of a leading international NGO. They are looking at land opportunities in Long Island, Rhode Island and northern New Jersey.
GSCI Development, Philadelphia, Pennsylvania: GSCI Development is owned by Glenn Isaac and Sarah Cohen Isaac. Glenn is owner and operator of a last mile logistics company while Sarah is a partner at a boutique law firm.
TKTI, Austin, Texas: Tim and Kim Frank are experienced house flippers. Tim grew up working in his family's construction business and currently owns an accounting firm. Kim has experience in design and was a project manager for Apple.
Tershe Development, Northwest Iowa: Tershe Development is owned by Terry Lutz, CEO of McClure's and former mayor of Fort Dodge. His unique blend of engineering knowledge and strong relationships has helped communities create strategic plans to drive economic and community development.
Truex Preferred Construction, Southwest Florida: Bill Truex is the President and Owner of Truex Preferred Construction, which has been building custom homes along the Gulf Coast of Florida since 2005. Bill is a Florida Certified Master Builder.
Davis Building Group, Central Indiana: Brad Davis, President & CEO, leads this company, which currently builds over 300 homes per year across Central Indiana. Their first project will be in the Avon area, west of downtown Indy.
NNS Consulting, Northwest Illinois: Justin Conner and Ray Williams will lead this homebuilding company in Northwest Illinois, reestablishing the Epcon brand in the Chicago market.
Cornerstone Communities, Southeast Florida: Partners Don Stafford, Connie Bishop, John Clancy, Bob Vianni and Mike Hamilton will be building Epcon homes on the Treasure Coast of Florida, which stretches from Vero Beach southward to the town of Stuart.
LifeStyle Builders, Richmond, Virginia: Owners Kevin & Lori McNulty lead the operation and already build over 50 homes per year. Their initial focus will be on the Southwestern areas of greater Richmond.
DevStar LLC, Southwest Florida: Anthony Burns and George Helmstetter bring extensive development experience to this new organization, pursuing potential project locations in Fort Myers and Naples.
Hamlet Homes, Provo, Utah: Hamlet Homes was founded in 1995 and has provided over 4,000 families a place to call home. Its senior leadership team is comprised of Barry Gittleman, Elliott Jenkins, Jon Southern and Philip Mosher.
Genesis Homes, Cedar Rapids, Iowa: Destiny Homes started in Des Moines, Iowa in 2009 and has since built homes for nearly 1,000 families in central Iowa. They currently average about 140 homes per year, and are looking forward to expanding to 55+ housing.
Elite Building Solutions, Richmond, Virginia: Corey Cotman runs Cotman Construction and Germal Daniel owns several successful franchise businesses in Georgia. The two will be focusing their Epcon Communities efforts on the northeastern side of Richmond.
Epcon offers Franchise Builders the ability to tap into the 55+ market by giving them access to resources that have been developed over more than 35 years. Epcon Franchise Builders benefit from proven home designs, development strategies, marketing resources, sales guidance, national buying programs and a network of Franchise Builders.
Learn how you can become an Epcon Franchise Home Builder.