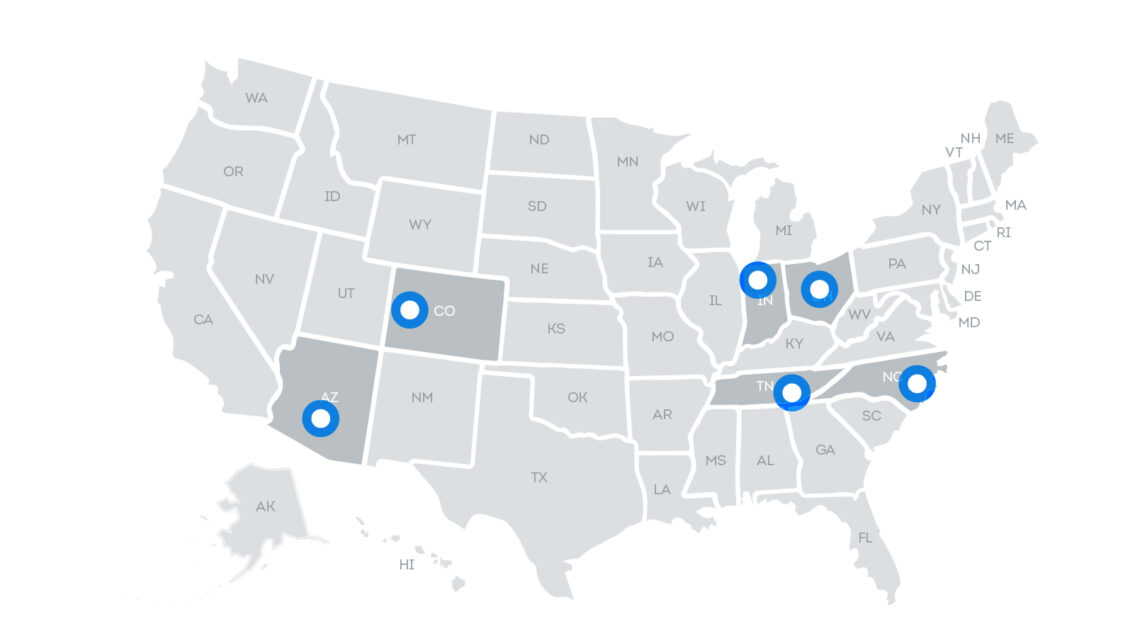 Epcon Franchising is pleased to announce the addition of 6 new Franchise Home Builders in 2023. They will build their first Epcon communities in 6 states.
The new Epcon Franchise Builders are:
Elysian Homes, Sunbury, Ohio: Elysian Homes is led by Morgan Knapp, who has worked for Epcon Communities since 2010. She has launched over a dozen new communities in Central Ohio. She is eager to follow the Epcon processes she has seen work supremely well over the years.
South Shore Communities, Valparaiso, Indiana: South Shore Communities is led by Chuck Williams, who has been a commercial builder and land developer for many years in the Chicago suburbs of Northwest Indiana. He will be diversifying his business into vertical residential construction.
Chipeta Hollows Construction, Grand Junction, Colorado: Led by husband and wife partners, Charlie and Wendi Gechter, Chipeta Hollows Construction will build momentum upon their parent company, BOA Builders, which was founded in 1982 by Wendi's father.
Luxury Lifestyle Homes, Mesa, Arizona: Luxury Lifestyle Homes will be led by Victor Mariano, founder of Mariano & Company which specialized in high-end remodeling and custom new builds. Vic is eager to diversify his business into scalable 55+ home building.
Waters-Holland Homes, Chattanooga, Tennessee: Partners Mitch Holland and Brandon Waters have been building custom homes for many years and will lead Waters-Holland Homes to bring Epcon's signature detached homes to Chattanooga for the first time.
Elevation Homes, New Bern, North Carolina: Elevation Homes is a partnership between Mike Foley and Zach Anderson, land developers by trade. They will leverage their development experience to begin vertical construction operations to round out their business.
Epcon offers Franchise Builders the ability to tap into the 55+ market by giving them access to resources that have been developed over more than 35 years. Epcon Franchise Builders benefit from proven home designs, land development strategies, marketing resources, sales guidance, national buying programs and a network of Franchise Builders.
Learn how you can become an Epcon Franchise Home Builder.