Epcon has expert design, years of research and a passion for great architecture
Epcon's founders have a passion for great architecture and designing homes that live well. What some call "feng shui," we call years of development with the best designers in the industry. Everything is meticulously thought out so that homes and communities will appeal to buyers, allowing Franchise Builders to develop communities efficiently while maximizing ROI.
Not just houses – communities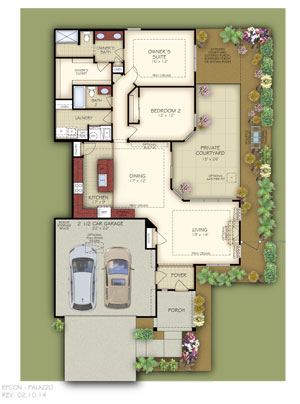 One of the defining aspects of Epcon Communities is that we typically build a gathering place for neighbors — such as clubhouses for game nights or parties and fitness centers with beautiful outdoor swimming pools. The homes' exteriors and yards are usually cared for by the property management staff: Buyers don't have to mow the yard, trim the shrubs, prune the trees, fix the driveway, shovel the snow or paint the exteriors of their homes. This is one of the major selling points for our buyers, who are downsizing to realize dreams of travel or just getting to do what they want instead of tending to home and yard maintenance.
Our developments foster a sense of community. Buyers don't just buy a home — they buy a lifestyle.
A look at our R&D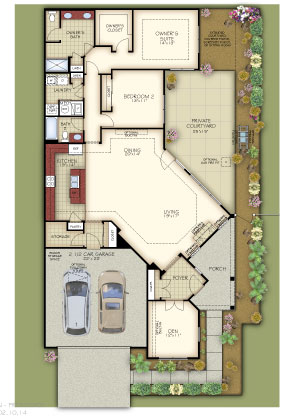 Our popular house plans are the result of intense research and development. Prior to designing our recent Courtyard Series of homes, more than 6,000 buyers were surveyed to ask them what features they wanted. We developed a wish list, then gave those specs to leading architects around the country and asked them to create their best designs at various home sizes. The result was award-winning layouts that buyers love. Boomers expressed an affinity for outdoor living and recreation as well as a need for privacy, so each Courtyard home features a beautiful interior that benefits from light that floods into the living areas of the home from an outdoor courtyard. The private outdoor living space is visible from all main rooms in the house. The open floor plans combine the kitchen, dining and living spaces to give the home an overall feel of openness and light.
How buyers react to the homes
Customers are mesmerized when they see our models because they feel larger than their square footage. It's rare that a space of 1,900 square feet has high, tray ceilings — a feature normally found in much larger homes with corresponding price tags. Our homes feel really, really big, and potential buyers are often astonished at what the actual square footage is.
Processes for high quality and strong word-of-mouth
We use superior construction materials for quality features, and we also inspect our work for quality before a homeowner moves in. That leaves very little to fix on the back end, eliminating a major headache for builders. Some homes also offer options such as a bonus suite, complete with kitchenette and a bathroom, for when one of the kids comes home or for when our buyers simply need space for visiting friends.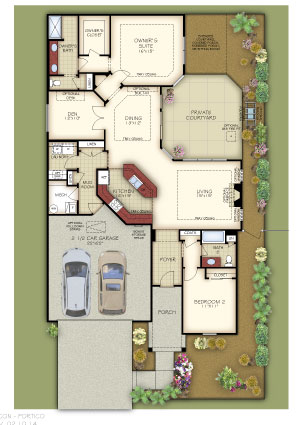 Upgrades give our plans a custom feel
Many Epcon Communities offer more than 200 upgrades, which gives them the feel of "custom homes." Upgrades can include wood floors, tile floors, granite countertops, plantation blinds, upgraded kitchen appliances, staggered cabinetry, walk-in L-shaped showers, upgraded paver patios, added porches, added sunrooms, additional cabinetry and much more.
"We believe that architecture is a form of art that you live in every day," says Phil Fankhauser, Epcon co-founder. "We are particular about employing visionary architects who can create designs that are unique and meet customer expectations better than any architecture before it, based on market research that told us what the buyers really want in their homes."
Learn more about Epcon Franchising
Contact us to learn more about our unique homebuilding opportunity in the niche 55+ market.