We are poised to take advantage of a 'silver tsunami'
"Tsunami" is the word media outlets use when describing the number of people who are now retiring or soon will retire. There are 76 million Baby Boomers, according to the U.S. Census Bureau. Many plan to buy new homes for retirement that are smaller but offer a lot of amenities that they finally have time to enjoy.
This demographic surge has created a huge residential construction opportunity for builders who can profitably build homes that attract these buyers.
Epcon is perfectly positioned to capture these buyers. Since our founding in 1986, we have considered the needs of 55+ buyers. Today's 55+ homebuyers represent a special opportunity. There are millions of them, they are wealthier than other generations and they have better credit and more equity in their existing homes. That puts them in the best position to buy. A recent study finds that 38% of Baby Boomers consider brand new homes when they are looking to move, and a full seventy percent of baby boomers think their current house is not the best that they can get and they are looking to upgrade.
Demand is so strong that Zonda (formerly Metrostudy) projects that demand for single-story, low-maintenance homes will outstrip supply by hundreds of thousands of units nationwide. 
By 2030, the U.S. Census Bureau projects that there will be over 130 million Americans age 50 or older.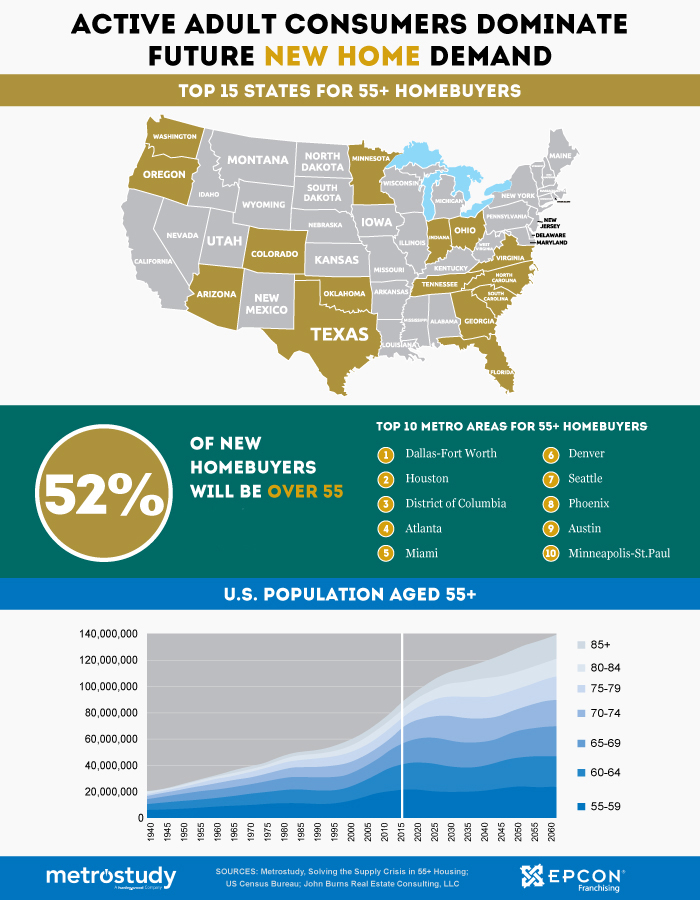 Epcon Franchising helps investors master this opportunity
While other companies are still conducting studies or learning by expensive trial-and-error, we have already built communities that buyers can see. We have photos and virtual tours that buyers can study, and a website and marketing collateral that draw customers into sales centers. We also know what it takes to build these homes and have detailed documentation for Franchise Builders, which allows them to develop communities and sell homes more quickly.
Epcon knows what this growing group of buyers wants, how they want it built and what amenities they like. Our established customers are ready to be part of tight-knit communities without the typical hassles of home ownership.
"They no longer want to be married to their lawn mower or have to worry about painting their house or cleaning out gutters," Ed Bacome, co-Founder of Epcon Communities says. "They want to enjoy life, and they are scaling down in size, but not in quality or amenities."
Learn more about Epcon
Contact us to start a conversation today.