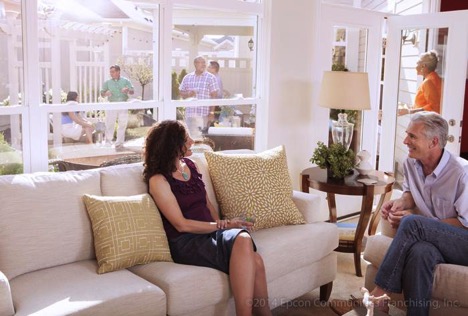 Epcon Communities celebrated a milestone year by hosting its 2016 National Franchise Builders Conference on February 8-10 in Columbus Ohio, where founders Ed Bacome and Phil Fankhauser started it all. Epcon marked its 30th anniversary in the residential housing market and 20th anniversary in franchising residential communities by honoring its outstanding home builders and sales specialists from across the country.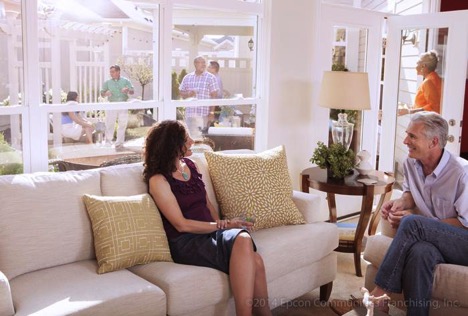 During the opening celebration dinner, the top honor, the Lifestyle Ambassador Award, was given to resident Melanie Nye, who also sells homes in her Marrington at Cobblestone community in Summerville, South Carolina. The Lifestyle Ambassador Award recognizes an Epcon resident who contributes to enriching the lifestyle experience.
"Melanie changes lives every day. She does more than help people buy homes, she helps them become neighbors," said Lisa Douglas, Epcon Regional Sales Manager for the Carolinas. "Our maintenance-free communities are designed to encourage people to spend more time doing activities, and less time doing chores. Melanie really brings the community together by coordinating activities that quickly turns new residents into friends."
Douglas added that Melanie brings to life the essence of Epcon's intentions for its homebuyers — to offer a fulfilling, happy lifestyle. "The community wouldn't be what it is today if it wasn't for Melanie," she said.
Nye said co-workers refer to her as "the glue", and she takes great joy in the nurturer role. "It's in the air I breathe," she said.
Nye moved to the Charleston area four years ago with her husband. She said they immediately fell in love with Marrington at Cobblestone, which she calls "the hidden gem of the Charleston area." After two years as a resident, she said that her social involvement in the community created a passion for her to become an Epcon sales specialist. "It's that emotional touch we talk about so often in housing sales."
Nye is neighbors with her parents who own the other half of a duplex in Marrington. She said since her father passed away, it has been a blessing to have her mom close and part of the community.
"Life doesn't get any better than this," she said with a smile. Everything Nye wants and enjoys is in one community — a career that fulfills her and easy living shared with great community friends and family.
Additional award winners
Franchise Builders use Epcon's home plans, systems and support to efficiently build and sell homes. Together, Epcon and its Franchise Builders have sold more than 28,000 low-maintenance, high quality ranch style homes across 28 states. In addition to the Lifestyle Ambassador Award, Epcon also celebrated home builders, sales specialists, and superintendents who have led the way in developing Epcon communities nationwide.
Sales Consultant of the Year was given to Jackie Gaudino, who closed 37 home purchases in 2015 at Sonoma Valley and The Vineyards, Epcon communities near Pittsburgh developed by Weaver Master Builders. Gaudino, who joined Weaver Master Builders 14 years ago, was able to sell more than 20 homes in six months in these new developments.
The Tabb Smith Award was given to Adam Beach of Covenant Developments, an Epcon Franchise Builder operating in western Michigan. The award is given to a construction project manager/superintendent who exemplifies the spirit of Epcon's Construction Manager Tabb Smith, who passed away in 2003. His leadership, professionalism, teamwork and commitment to detail continue to inspire the organization through this honorary award.
Rookie Sales Consultant of the Year was given to Lyndsay Demarco, who closed 29 home purchases in 2015 in the Courtyards at Brawley Pointe and the Courtyards at Jetton near Charlotte, North Caroline.
Most Non-Contingent Sales: Mary Lynn Knowles of Epcon Communities, was recognized for closing 54 contracts in 2015. This is her first year in new sales with Epcon Communities and she had never sold a new home previously.
Sales Leaders: In 2015, sales leaders included: Tammy Blackburn with Perfection Builders, building Epcon communities near Wichita, Kansas, who closed 30 homes; Julie Gabala with Covenant Developments, building for Epcon communities near Grand Rapids, Michigan, who closed 30 homes; and Bill Stevens with Integrity Group building for Epcon communities in Keller, Texas, who closed 25 homes; Angela McCahill with Epcon Communities in the Columbus area, who closed 24 homes; and Amy Moss with Epcon Communites in the Charlotte area, who closed 20 homes.
Silver Bullet Award: Robert Carter, Epcon Construction Manager, was recognized for his excellence in home building.
Most Homes Under Construction by a Superintendent: Chris Michael, with Epcon Communities in the Charlotte area, managed more than 50 homes at one time.
Best Landscaping Award: The Villas at Park Place in West Chester, Ohio, a Foundation Development Group.
Best Philanthropic Outreach Event: Epcon Communities, Freedom Tour. The event invited homebuyers to visit Epcon Communities, with a portion of the sales going to the Wounded Warrior Foundation.
Best Model Presentation: Weaver Master Builders. The Vineyards in Connoquenessing Township, Pennsylvania.
National Account Partner: Huber Engineered Woods were recognized for their quality, timeliness and commitment to Epcon Communities.