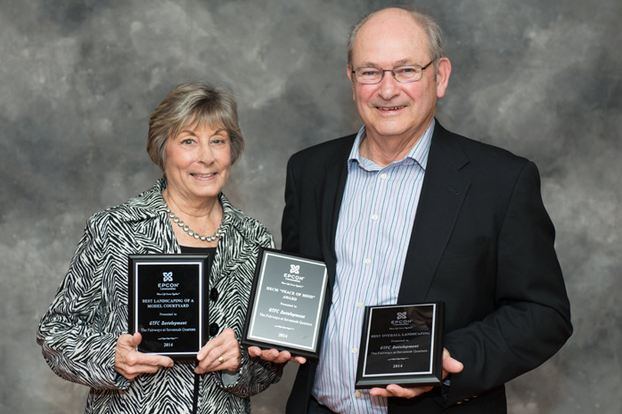 Lifestyle Ambassador award winner Caryl Dierksen thanks Epcon Franchise Builders for 'doing something that directly benefits me as a homeowner,' and brings people together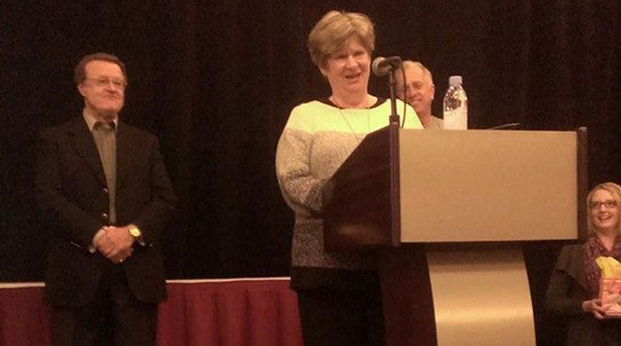 Epcon honored our Franchise Builders and team members during our annual conference Feb. 2-5, but a retired English teacher from Woodstock, Illinois, stole the show.
Caryl Dierksen, who lives in the Maples at the Sonatas community, received the Lifestyle Ambassador Award for her efforts to attract residents to the community she loves, welcome new neighbors, and plan parties to build friendships among neighbors. After receiving the award, she took the opportunity to thank Epcon for designing her home, and Franchise Builders Jamie and Jonathan Wilcox for building her neighborhood.
"I don't care what you do in the company, you are either doing something that directly benefits me as a homeowner or you are doing something that directly benefits other homeowners in our communities," she said. When neighbors heard about her award, several asked her to thank Epcon's builders for creating thoughtful, beautiful neighborhoods. "So on behalf of all of the homeowners, thank you very much for our homes."
We are America's 36th-largest homebuilder ("2013 Builder 100," Builder Magazine, May 2014), and one of the only home building franchise companies that exists. Epcon's corporate team and our franchise builders develop communities of ranch-style, low-maintenance homes popular with 55+ buyers — a demographic that Metrostudy projects will drive new home sales in the United States for many years to come. In addition to providing beautiful homes, Epcon Communities typically feature amenities like clubhouses, pools, exercise rooms and walking trails that are designed to bring people together.
"I had lived in Woodstock ever since I left college and had a lot of friends and acquaintances," Caryl said, explaining her mindset when she first moved into the neighborhood after falling in love with a house. "I wasn't thinking, 'Oh good, I'm going to go make a bunch of new friends,' because I felt like I had my friends. But then when I got there, they were so darn outgoing and friendly that I couldn't help it, I found more friends."
Other awards for home building franchise teams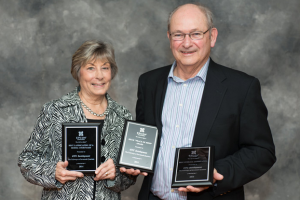 During the conference we also handed out awards for outstanding sales, construction management, design, communications and more to Franchise Builders and their teams who are building Epcon Communities throughout the country to serve the fast-growing demand for low-maintenance communities from Baby Boomers and other buyers.
Sales awards. Jackie Gaudino of the Sonoma Valley community, built by Weaver Master Builders; and Tammi Blackburn-Hilger of Watercress Village in Maize, Kansas, built by Perfection Builders, took top honors by each selling 29 homes in 2014. Bill Stevens of Integrity Group was named Rookie Sales Consultant of the Year for selling 25 homes at the Villas of Stone Glen in Keller, Texas.
Community outreach awards. The Villas of Stone Glen, built by Steve and John Delin of Integrity Group, won the award for the best newsletter, which recognizes efforts to keep residents informed about the community and to impress upon prospects what they can expect if they become Epcon residents, too.
Leadership award. Each year, we honor the memory of Tabb Smith, a franchise construction manager from Yorktown, Virginia, who passed away in 2003, by giving out the Tabb Smith Award to a construction project manager/superintendent who stays on schedule; maintains a safe and clean working environment; takes ownership of tasks to be done; inspires and motivates team members to work well together; has pride in workmanship; is knowledgeable of the Epcon Communities product; is dependable and resourceful; and embraces training opportunities and the Epcon Communities system. This year's Tabb Smith Award went to Jeff Young of Integrity Group.
Construction Award. Integrity Group superintendent Ryan Delin, who oversees the Villas of Stone Glen, also won the award for having the most homes under construction.
Best Landscaping. The Fairways at Savannah Quarters in Pooler, Georgia, built by GTFC Development, won two awards — one for best landscaping of a courtyard and another for best landscaping overall.
This tour video for The Fairways at Savannah Quarters helps buyers envision what life will be like inside their home — and the virtual tour is one of the keys to pre-sales for Epcon franchise builders.
Epcon Service Excellence Award. This award, presented by Guild Quality, recognizes communities who deliver exceptional customer service. This year's winners were Integrity Group (which is building communities near Dallas) and Cornerstone Development of Southeast Wisconsin.
"It is wonderful to bring together a great group of Franchise Builders from all over the country to recognize the best and learn from one another," says Epcon co-founder Philip Fankhauser. "The camaraderie of our Franchise Builders and their teams is one of the things that has helped Epcon's business model take hold all over the country."
Learn more
For in-depth details about the Epcon Communities franchise opportunity, download our free franchise report. You can also learn more by visiting our research pages.