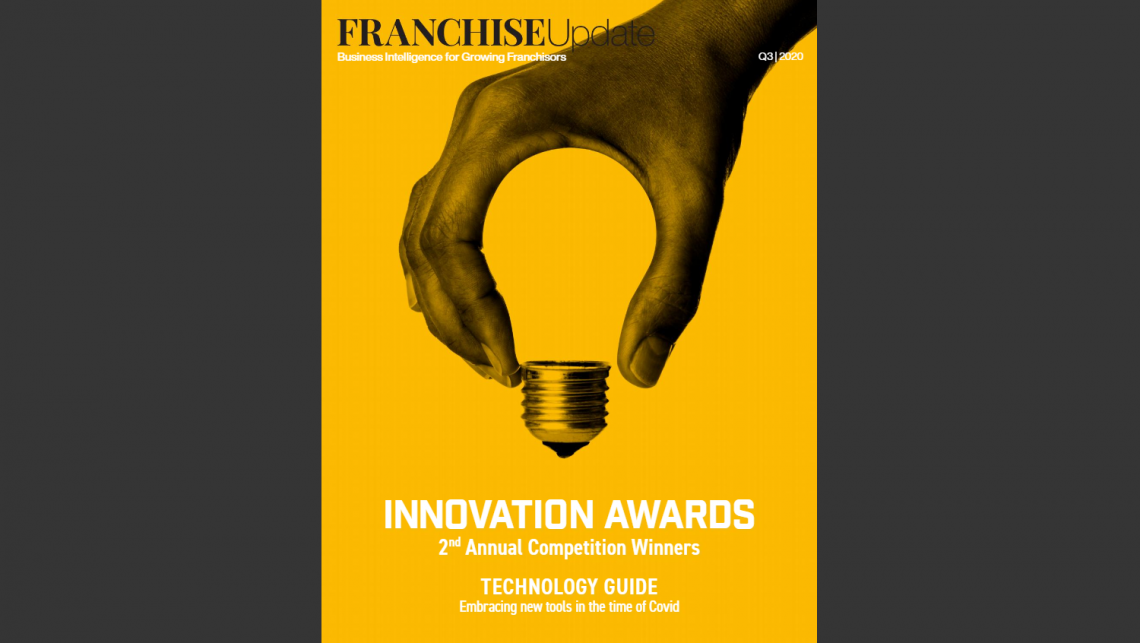 At no time in recent history have innovation and technology been more necessary than during the Covid-19 pandemic of 2020, with many organizations forced to adapt or face extinction. Enter the 2nd Annual Franchise Innovation Awards.
Although many entries were submitted before the pandemic, the submission deadline was extended and amended: franchise organizations were allowed to submit the innovative ways they were dealing with Covid-19 in the early part of 2020. The result was a remarkable group of 113 entries spread across 19 different categories. Each of these companies found ways to leverage innovation and technology, not only to get ahead of the competition, but for some, just to stay alive.
The annual awards identify and recognize franchise brands that are creating and implementing the most original and successful innovation strategies and tactics in four major categories:
Marketing & Branding: How brands are finding innovative ways to grow consumer awareness, engagement, and loyalty—everything from traditional advertising and PR campaigns to social media, rewards programs, new product launches, and local store marketing.
Operations: Systems and processes, along with replicability and scalability, are essential for franchising success. Judges reviewed the most forward-thinking operations teams and how they are working to improve and streamline their brands' processes and practices through innovations in technology, tactics, support, etc.
Products & Services: To meet the changing needs of today's consumers, franchise systems must evolve along with them—not only in what customers want in products and services, but also in how they want them. Technology plays a huge role here in the ways customers order, pay for, and receive a brand's products or services—especially since the arrival of Covid-19.
Human Resources: Growing a great brand requires the very best people at every level. This category examined how brands are employing unique, innovative strategies and tactics to attract, hire, train, and retain the employees who best suit their vision and culture.
This year, a panel of 8 judges evaluated the entries, based on each entrant's objective, the problem they were trying to solve, or improvements they hoped to achieve through innovation—and the results. The winners are profiled in the following pages, along with the runners-up in each of the 4 main categories and 13 subcategories that produced winning entries.
The judges for this year's awards were Scott Lehr, Managing Partner of GT&S Franchise Executive Search; Jayson Pearl, President of ServiceScore; Michelle Rowan, President of Franchise Business Review; Theresa Huszka, Senior Consultant at MSA Worldwide; and from Franchise Update Media, CEO and Co-Founder Therese Thilgen, Chief Content Officer Diane Phibbs, and Executive Editor Kerry Pipes.
Visit franchising.com for more details on the awards and subcategories—and, of course, to find out more on how you can start preparing for next year's contest.
MARKETING & BRANDING
BEST DIGITAL CAMPAIGN
WINNER: Epcon Franchising
OBJECTIVE
The goal of our video mailer campaign was to establish credibility and move qualified leads already investigating the Epcon business opportunity down the sales funnel in a unique way that would catch their attention.
OVERVIEW
Traditional brochures are often thrown away and typical digital marketing campaigns can feel impersonal, so we used a video and audio brochure to combine the best of both forms of marketing. We created a 6×9-inch booklet that opened to a 5-inch screen that played four videos about our franchise opportunity, including more information about the company, testimonials from franchise builders and homebuyers, and interviews with company leadership. The digital brochure was mailed to select high-value prospects who were actively investigating our business opportunity, and to qualified prospects identified by the sales team. The digital brochure was used to establish credibility with these high-value prospects. Clearly not a throwaway brochure mailed to a huge list, the digital brochure was able to help the brand stand out from the competition and other marketing materials. It also allowed us to personalize each video mailer by choosing videos that would appeal to individual recipients to help educate and move them down the sales funnel.
RESULTS
The video mailers were created as a middle-of-the-funnel marketing piece to move highly qualified prospects forward through the sales process. They were successful in catching the attention of highly qualified potential franchise builders and providing them with specific, targeted, and valuable information about the Epcon franchise opportunity. Instead of competing with the large amounts of marketing communications prospects receive daily, or relying on prospects to be self-starters and find middle of the funnel resources on our website, the video mailers put the right content in front of the right prospects at the right time in a unique, attention-catching way, successfully moving several prospects through the funnel to the next stage in the sales process. Since launching the video mailers, we have achieved an 84% follow-up contact rate with prospects and are on track to exceed sales projections in 2020.
Read the full article on page 6 of Franchise Update Magazine.