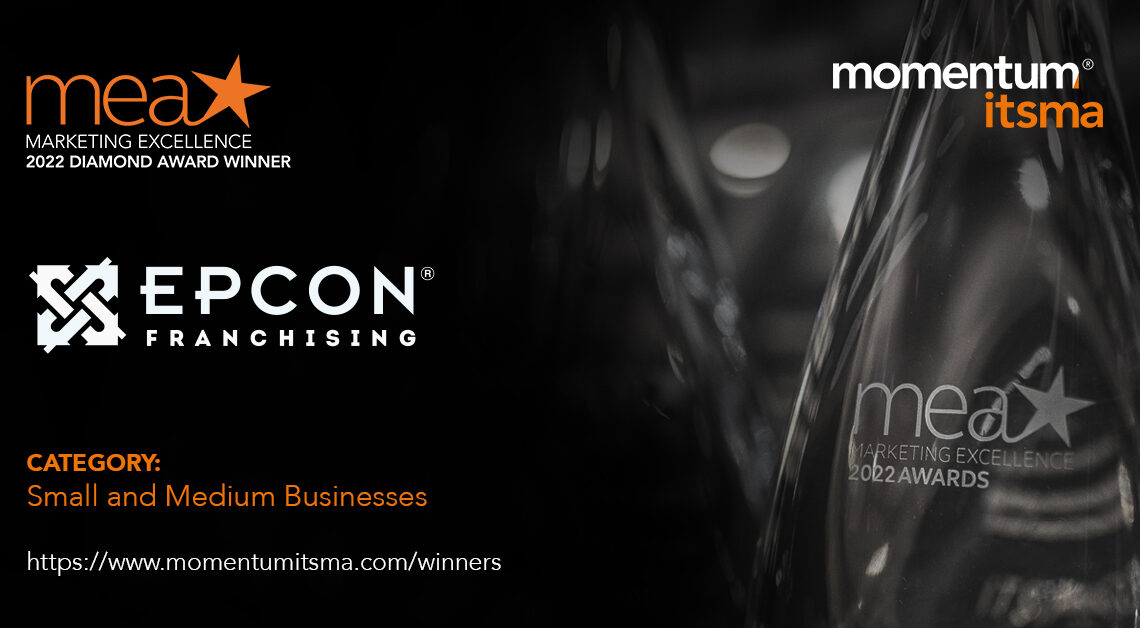 Epcon Franchising is honored at Momentum ITSMA's annual awards program, which recognizes marketing innovation and impact with B2B services and solutions
COLUMBUS, Ohio (October 26, 2022) – Momentum ITSMA, a leading B2B growth consultancy, celebrated Epcon Franchising as one of 17 winners at its 2022 Marketing Excellence Awards on October 25 during its 25th annual Awards Ceremony.
"In the 25 years of our Marketing Excellence Awards, I'd say two things are constant: One, the market is always changing. Two, marketers step up time and again to deliver innovative programs that drive growth," said Dave Munn, Chief Community Officer, Momentum ITSMA. Alisha Lyndon, CEO, Momentum ITSMA, added, "Congratulations to all the winners, each a compelling example of best practice marketing's impact on growth. It's an honor and an inspiration to see how marketing leaders are driving innovation and changing the growth game."
2022 Marketing Excellence Award Winners
The 2022 Marketing Excellence Awards focused on six critical aspects of marketing for B2B services and solutions: Account-Based Marketing; Brand; Digital Transformation; Sales Collaboration; and Thought Leadership.
The jury, an international group of marketing executives and experts, selected the winners based on excellence in innovation, program execution and business results. The awards honor outstanding marketing performance at two levels: diamond and gold.
Epcon Franchising was named a diamond winner in the small and medium businesses category for our 10 challenges campaign.
"We are so pleased to be named a diamond award winner," said Rob Krohn, VP of Marketing at Epcon Franchising. "Many contributed to bringing this project from conception to completion, and through a rigorous submission and judging process it's an honor to come out on top."
For more information about the award winners, visit https://momentumitsma.com/winners/.
About Epcon Franchising
Headquartered in Dublin, Ohio, Epcon is one of America's largest home builders (Builder Magazine, 2022). Epcon has integrated smart, innovative designs with the most desirable modern amenities that have been popular with 55+ home buyers for more than 35 years.
By leveraging its proven designs, technology and marketing and sales resources, Epcon Franchise Builders are given a competitive advantage to build smarter and scale faster.
About Momentum ITSMA
We are Momentum ITSMA – a world-leading B2B growth consultancy and analyst firm. As pioneers of account-based marketing (ABM), we enable you to embed a customer-first mindset, truly understand your markets, and build the right capabilities. Learn more at www.momentumitsma.com.