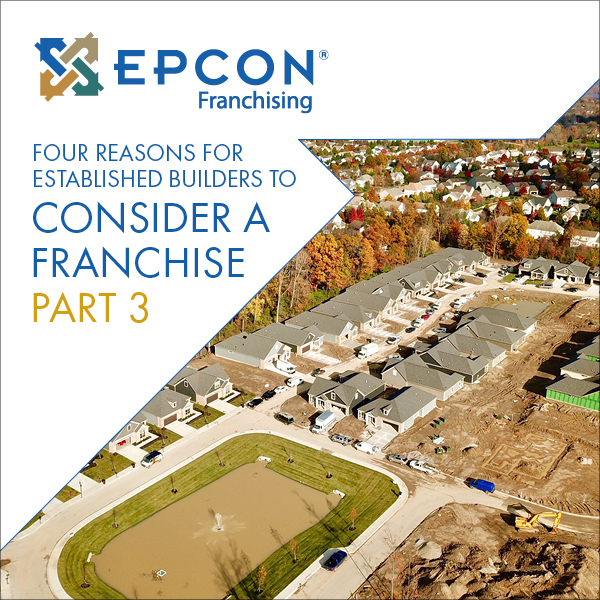 When builders see an opportunity to expand into a new market niche, such as the 55+ active adult market, there is benefit to working with a national leader. This blog series will help answer whether a homebuilding franchise is the right investment, the right business model, and the right way to scale a business.
We address four reasons to consider working with a national franchise through the eyes and experiences of current Epcon Franchise Builders. In this 4-part blog series, we will address how to:
Reason #3: Leverage the knowledge and experience of a national builder.
Every generation has a list of wants and needs when it comes to the homes they are looking for that differ from others generations; the 55+ demographic is no different. When home builders work with a franchise, they can capitalize on years of experience building homes that are popular with 55+ buyers and the tools and resources to come with it. Epcon's home plans are the result of intensive research and development. Before creating a new plan, potential buyers are asked about their most important wants and needs; this wish list is included in the development process.
"This is a way to broaden your product line without having to do the research and get into a market segment that's really hard to crack, working with a company that has been doing this for decades," said Andy Dreyfuss, Managing Partner of Nova Triad Partners, an Epcon Franchise Builder in Winston-Salem, North Carolina. "Epcon designs products to meet the buyers' needs and tools to sell to them."
He noted that when Epcon first started building homes, they were building a product that was popular with the Greatest Generation. Now they are building homes that are popular with Baby Boomers.
"Each generation is a little different," Dreyfuss said. "I trust Epcon has the marketing muscle to figure out what Gen X wants as they begin to enter this market."
"Working with a Top 50 US home builder that understands the 55+, active adult buyer is invaluable," Dreyfuss said, "because the buyer is demanding and the margin for error is low."
"I think it's a hard market to serve," Dreyfuss said. "The buyer is savvy; this could be the eighth home they've lived in and they don't have to move. But they're absolutely exhausted living in a two-story home and doing the yard work. They want to get to their final home while they can still enjoy it."
One Franchise Builder, Traton Homes, has built 10,000 homes in the Atlanta market since opening in 1971 and doesn't need much advice on construction or help with getting the best pricing from suppliers. What attracted Traton Homes to Epcon was its vast expertise in how this demographic wants to live in their homes and where the communities should be located.
"I wanted their plans, their knowledge of where 55+, active adult communities can work, what the areas need to look like, people to talk to about marketing, and a little bit of help with estimating," said Chris Poston, Chief Operating Officer of Traton Homes.
The Epcon system gives builders the tools, product and training needed to capitalize on this opportunity without having to make the costly mistakes themselves. They don't need to reinvent the wheel when Epcon has already done the research. They know what the buyer wants.
"Prospective buyers who find The Villas at White Oak Ranch online are "pleasantly surprised" when they arrive on site for a visit," said Diane Jacob, an Epcon Franchise Builder outside Houston, TX.
"They have an idea of a retirement community of people in wheelchairs and walkers," Jacob said. "That's senior living. This is 'I'm at a point in my life where I don't want all the maintenance.'"
One of the big benefits of time-tested floorplans is that buyers don't need to make changes — that speeds up production time and keeps costs down. The homes are built to predesigned specifications because the plans are engineered to understand the buyer, with "every nook and cranny" designed to meet the buyers' needs.
Beyond providing proven floorplans, Epcon Franchising also provides its builders with a wide range of invaluable tools, from marketing resources to a national network of builder peers, to answering questions and offering support.
"For example, take the inserts of the floorplans," Diane Jacob said. "I wouldn't have known where to begin on those; Epcon has them all. You don't have to recreate the wheel. We say that all the time."
Jacobs also appreciate the peer support that has come from being part of the Epcon Franchising community.
"You're not alone," she said. "There is someone there who has paved the way. They have referred other builders to us to answer questions and they did the same thing for us."
Click here for the fourth blog in the series titled Reason #4 – Scale Faster.
To learn more about the benefits of becoming an Epcon Franchise Builder, download our free Epcon Franchising Information Report here.