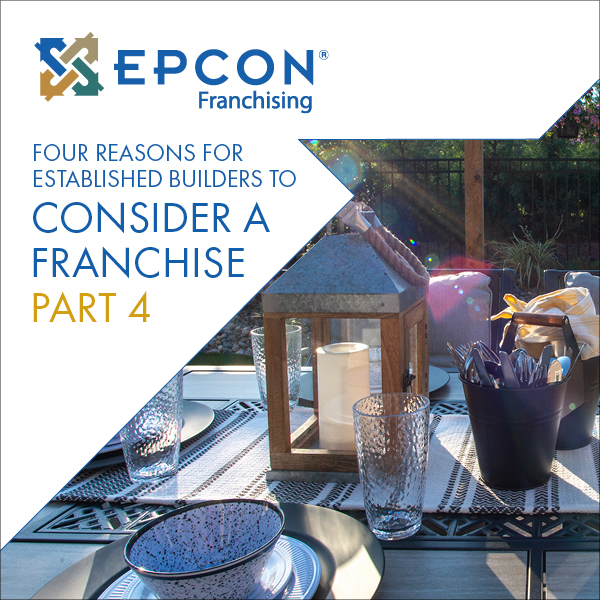 When builders see an opportunity to expand into a new market niche, such as the 55+ active adult market, there is benefit to working with a national leader. This blog series will help answer whether a homebuilding franchise is the right investment, the right business model, and the right way to scale a business.
We address four reasons to consider working with a national franchise through the eyes and experiences of current Epcon Franchise Builders. In this 4-part blog series, we will address how to:
Reason #4: Scale Faster
It's no secret that the more houses you build and sell, the higher the return on investment. Epcon Franchise Builders can complete houses twice as fast as the industry average with documented processes, access to financial guidance, and construction training.
By using a limited plan collection, subcontractors are performing the same tasks the same way on every house. This system allows most builders to complete a house in as little as 110 days . "In the custom world, many builders consider 10 months a good time to get a house completed," said Paul Hanson, President of Epcon Franchising.
Diane Jacob, an Epcon Franchise Builder outside Houston, TX, can attest to the speed of the build time with Epcon's plans. She said their customers, who often have built other homes, are surprised at how quickly their home will be finished and ready to move into.
Even an experienced builder such as Traton Homes, a top-200 national home builder based in the Atlanta market, whose standard building times are within a week or two of Epcon's learned a few things from the Epcon system.
"This is a smaller home than we usually do," says Chris Poston, Chief Operating Officer of Traton Homes. "There was a learning curve for the ranch product. They showed us how to build a small house and get all the efficiencies out of it."
For example, Poston said Epcon homes, with smaller pads and side courtyards, require different grading and drainage.
"Epcon has figured out how to do it better," Poston said. "Having many, many people vet these plans is very helpful."
Adding new product — typically a time-consuming and expensive process for a builder — is much simpler for Epcon Franchise Builders, said Andy Dreyfuss, Managing Partner of Nova Triad Partners, an Epcon Franchise Builder in Winston-Salem, North Carolina. When he wants to add product, he goes to Epcon's intranet and looks at its plans.
"The products are variations of each other," Dreyfuss notes. "If you're building in one product line, you can easily move into another one. And we know these plans will sell."
Epcon Franchise Builders also have greater purchasing power through a national network of suppliers and a marketing co-op. Often times homes are sold before they are built through lead generation support and sales training.
The Courtyard at Deer Run in Chillocothe, Ohio, has benefited from using Epcon subcontractors, whose familiarity with the product has saved them "a couple thousand dollars a home, at least," said Partner, Kevin Norman. They've also accessed Epcon's financing and insurance teams; "they really know how to save money and control risk," he said
They also have taken advantage of Epcon's vast experience in marketing. Norman says the challenge his team faces is "representing the lifestyle as opposed to the sticks and bricks. Epcon helps us do that – they have some great marketing people. We are trying to train our sales and marketing people to market the lifestyle by sending them to Epcon training and annual events."
The bottom line is that the Epcon Homebuilding Franchise helps you scale faster by using a proven, repeatable model to develop entire communities versus building one home at a time. By using our business blueprint with proven tools and resources, you'll be able to get to market quickly. At Epcon, we want you to take advantage of what we've learned serving the 55+ market for more than 30 years and match it to your business needs and goals.
To learn more about the benefits of becoming an Epcon Franchise Builder, download our free Epcon Franchising Information Report here.