Epcon Homebuilding Franchise
Providing a franchised solution to the crisis in 50+ housing
There is a crisis in housing in today's real estate market. Baby Boomers have begun to retire en masse, and many are seeking to downsize into new homes — new homes that don't yet exist.
Epcon Franchising recently partnered with Metrostudy (a division of Hanley Wood) and Builder Magazine to identify the size of the shortfall, and the results were stunning. Metrostudy says that Baby Boomers want to move closer to urban cores and want homes that require little maintenance.
Metrostudy estimates that over the next five years, demand for maintenance-free boomer housing will exceed supply by hundreds of thousands of units. In Dallas-Forth Worth alone, Metrostudy projects a deficit of 41,079 boomer homes by 2019. The huge gap between supply and demand was aggravated by the Great Recession, which hobbled new home construction just as the first boomers were beginning to retire. Many less-skilled builders were forced out of the industry. Now, builders tell the National Association of Home Builders that demand is growing. The NAHB's 50+ Housing Market Index shows that builders are confident thanks to a mix of current sales, prospective buyer traffic and anticipated sales. Tellingly, builder confidence spiked in 2013 and became consistently positive in 2014.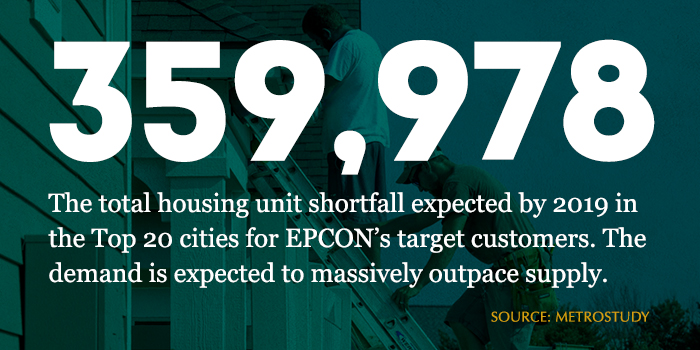 Epcon has been building and selling maintenance-free homes since 1986, and we have been franchising since 1995. Our Franchise Builders benefit from our nearly 30 years of experience and research, which allows us to provide excellent operational systems and extraordinary home designs. Our systems speed up the process of building and selling homes, allowing Franchise Builders to quickly build new communities that are in such high demand.
Why Epcon homebuilding franchises are positioned to capitalize on surging demand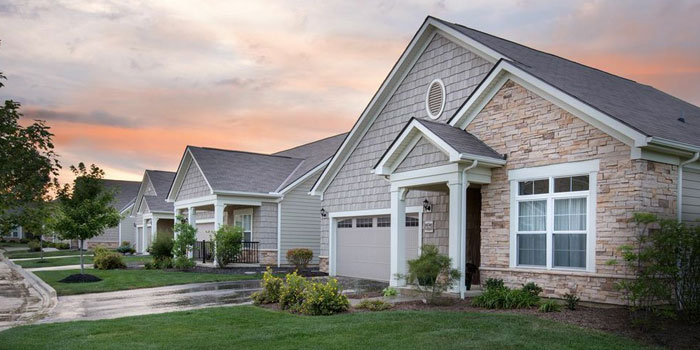 Epcon is the 40th Largest Home Builder and the 22nd Largest Private Home builder in the U.S. (Builder Magazine, May 2016), and we have been building single-story residential communities that have been popular with active adults for nearly 30 years. Co-founders Ed Bacome and Phil Fankhauser created a unique "pinwheel" design with four condominium units under one roof while still providing each home its own front entrance and two-car garage. The units were affordable, and the communities were designed with resort-style amenities that brought people together. The first development was such a hit that Ed and Phil were inundated with requests to duplicate the design.
There are 76 million Baby Boomers, and the rest of the industry is not geared up to meet their needs. Epcon, however, can help Franchise Builders get up to speed quickly and start filling that gap in the marketplace.
That is why now is such an exciting time for the business. Metrostudy's five year market analysis projects that active adult buyers — often defined as 55+ buyers — will buy 52 percent of the new homes sold through 2019, and that's just the beginning of the "silver tsunami" expected to last for 20-30 years. Epcon understands these buyers and has had three decades to develop excellent systems for delivering a product they want.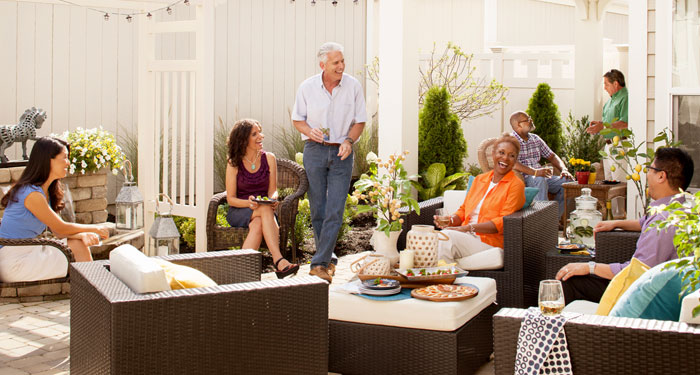 High demand, high barriers to entry, with correct market timing spells opportunity for Epcon franchises
Private equity firms, smart entrepreneurs and small business people of all types recognize that there is a huge opportunity to serve the needs of the growing senior market. But homebuilding is a highly nuanced business, and creating planned development communities is even more nuanced. It requires expertise that takes years to develop. It also requires individuals with enough capital to invest in development and sales. The high cost of entry, combined with that necessary amount of knowledge and skill, keeps competition at bay.
High customer demand, low competition and high barriers to entry typically create a situation where new competition is slow to respond. Savvy investors will capitalize on that situation and create a long-term, profitable and sustainable niche. While would-be competitors are still scrambling to get off the ground, existing players should use their people, knowledge and resources to charge hard and maximize their returns.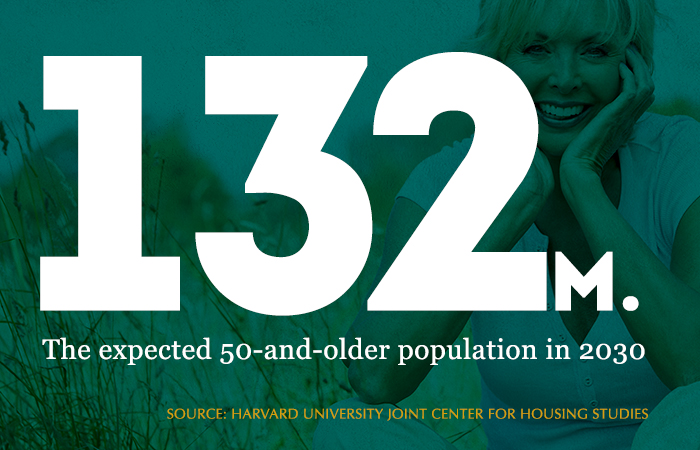 Epcon has a tremendous window of opportunity in many U.S. markets, but we cannot satisfy customer demand or maximize that window of opportunity by ourselves. We are looking for people to bring investment capital, street smarts and some hustle. We provide proven processes, systems, and plans to get these communities off the ground. We are looking for smart and sophisticated investors and entrepreneurs who see what we see, and who want to work with us to capture the available market and share the rewards.
"We have remained singularly focused on serving our market," says Epcon co-founder Ed Bacome. "For all of these years, we have focused on single-story living. We don't do shopping centers. We don't do custom homes, and we don't do office buildings. This has served us well."