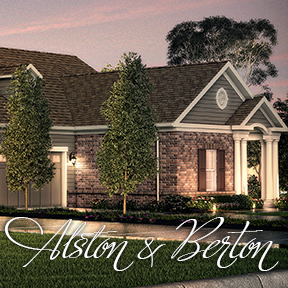 Attached homes in five different floor plans offer greater diversity and options to the Epcon product mix
Epcon Communities Franchising, the 38th-largest home builder in the U.S. (Builder Magazine, May 2015) and the 19th-largest privately owned homebuilding company in the country, announces a new set of attached duplex and triplex floor plans, designed to attract a wider segment of buyers including those in the lucrative 55+ age demographic, who according to a Metrostudy report, will drive a majority of new home purchases for the foreseeable future.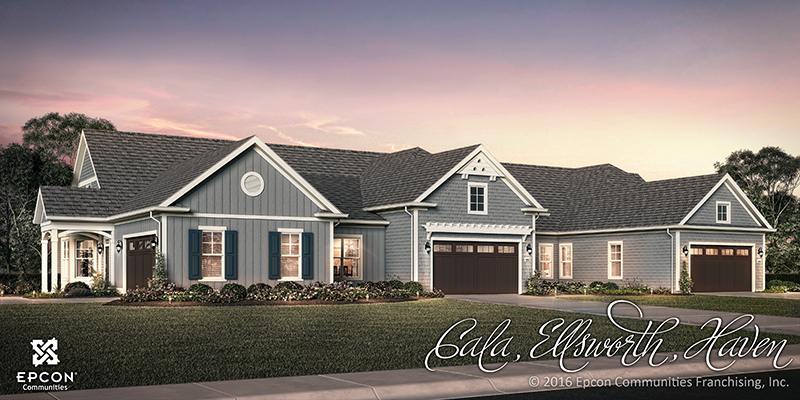 The evolution of attached and detached homes
Epcon has 30 years of experience in the residential building business and 20 years in franchising. Over that time, co-founders Ed Bacome and Phil Fankhauser have had a pulse on the home buyer market and developed floor plans accordingly. When Epcon Franchising was launched, the pinwheel style of attached home models was especially popular. These affordable homes had four condominium units under one roof while still providing each home its own front entrance and garage.
Over the years, in keeping with buyer demand, these attached models made way for detached homes with popular floor plans such as the Palazzo, Torino and Salerno and even the newest, American Porch Collection, which was launched in February. With these detached homes came the choice to add on more options such as a bonus suite, screened porches, sunrooms and more, which Epcon noticed was what buyers were frequently going for.
Now, new home buying trends are making attached homes a popular option once again for builders. The size of the average Epcon community has been steadily increasing — 30-home communities have slowly been giving way to communities of 50 to 150 homes. As the size of the development opportunities have increased, Epcon and its Franchise Builders are re-embracing attached condominium-style housing as a way to offer more home options that appeal to a broader group of buyers.
"The new duplex and triplex attached homes have a lot of advantages for the buyers, as well as our Franchise Builders," says Tim Rini, Epcon's Vice President of Franchising, "They'll have the same luxury look and feel as the rest of our home models. They'll be the same Epcon quality homes, often at a price point that is attractive to a larger audience of home buyers."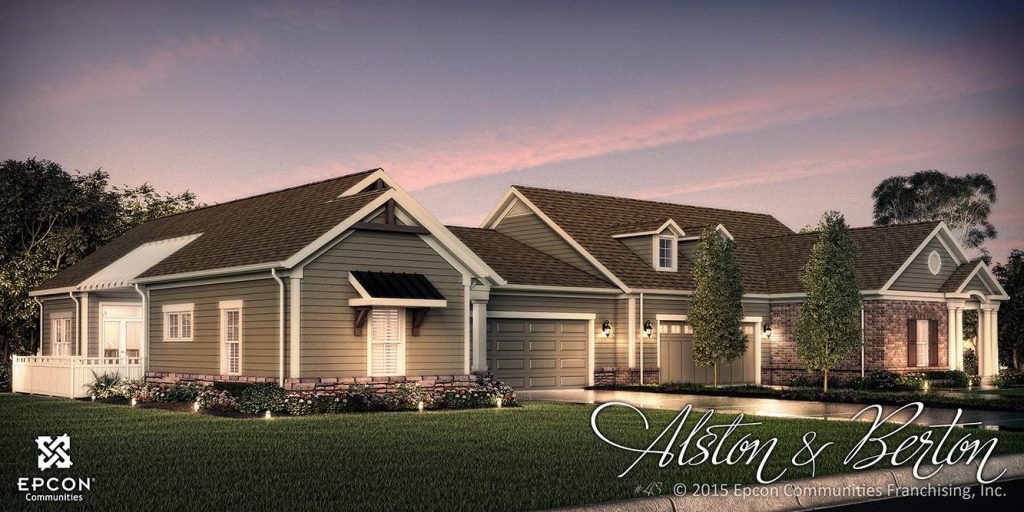 New Epcon Models Offer Advantages to Franchise Builders
The new triplex floor plans include Calla, Ellsworth and Haven and the duplex feature the Alston and the Berton as well as the Ellsworth and Haven. The sizes of the plans vary with the Calla being the smallest (1,546 sq. ft.) to the Haven (up to 2,464 sq. ft. when it includes an optional second floor bonus suite). Rini said that these models, and their targeted price points are expected to drive sales velocity, enabling buyers who may have been priced out of other detached home options.
For Franchise Builders, another big positive is that the new duplex and triplex home models increase building density, allowing more return per plot of land. The current plan is to offer roughly 30% attached and 70% detached homes within a single community, a program that is being given a test drive in one of Epcon's communities in the metropolitan Columbus, Ohio, area.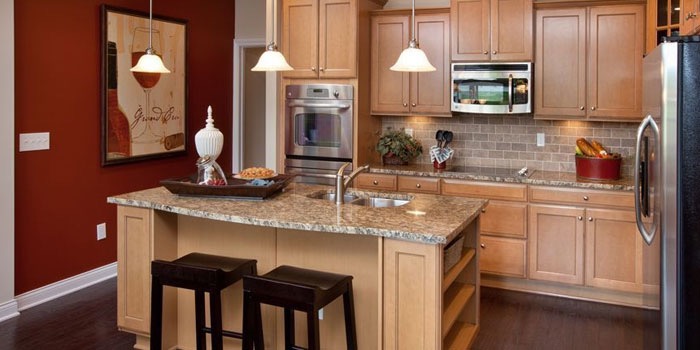 Epcon is the R&D arm for its Franchise Builders
Epcon has always been a driven industry leader and focused on the cutting edge of home-building whether it be through studying buyer trends, marketing or product design. "We deliberately survey buyers to understand changing nuances with respect to buyer preferences and adjust our homes accordingly so we're always on the forefront in the home building industry," Rini said.
Epcon evaluates its floor plans and models and relays best practices learned from the field to its Franchise Builders who then offer proven floor plans that meet market expectations.The plans  are well thought-out, well detailed and are ready to adjust for local building codes. Best practices are implemented at every stage of the process, from building on to marketing and sales.
Such is also the case with the new duplex and triplex models. The icing on the cake? As buyer and market dynamics have changed, these new plans allow Epcon Franchising to keep the founder's mission of building a quality home at an affordable price vibrant and alive.
Investigate the Epcon franchise opportunity
For in-depth details about the Epcon franchise opportunity, download our free franchise report. You can also learn more by visiting our research pages.
Disclaimer: The offer of a franchise can only be made through the delivery of a Franchise Disclosure Document. Certain jurisdictions require registration prior to the offer or sale of a franchise. We do not offer franchises in jurisdictions where we are not registered (or exempt from registration). Epcon Communities Franchising, Inc. 500 Stonehenge Parkway, Dublin, Ohio 43017. Minnesota Franchise Registration No. F-3531.