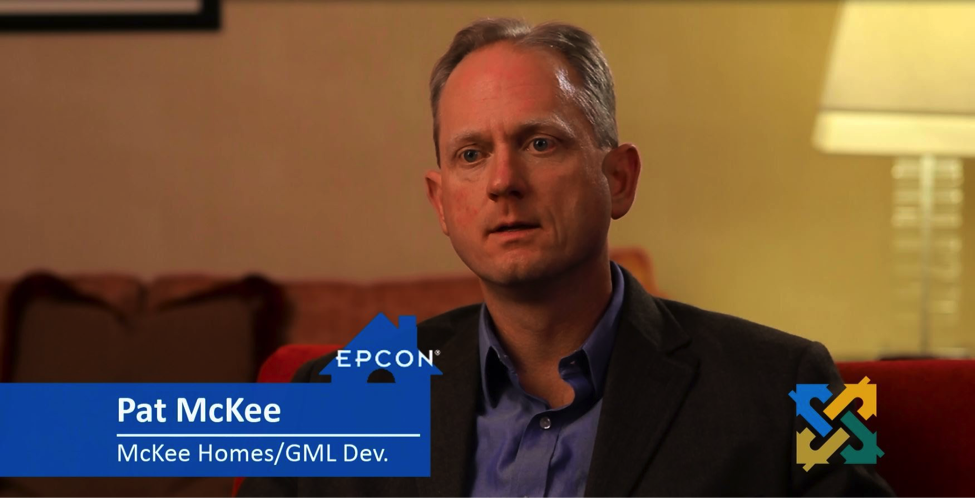 Traditional single-family home builder becomes large regional builder with help of homebuilding franchise
Traditional single-family home builder Pat McKee was able to quickly become a large regional builder with assistance from the Epcon homebuilding franchise system.
As Epcon continues to develop popular communities with quality, affordable homes that appeal to a broad range of buyers, opportunities abound for small, custom home builders who want to grow their business. The homebuilding franchise has developed a housing concept that has great appeal to the 76 million people that make up the Baby Boomer generation — a large part of the 55+ home buying market demographic that keeps growing. At the same time, Epcon is helping pave the way for existing home builders to enhance and expand within the niche or regional markets they currently serve.
"Our depth of knowledge is difficult to achieve. Large regional builders often partner with Epcon to develop specific sections within their developments because they recognize that Epcon is the best way to satisfy a particular market niche," says Rob Krohn, Epcon's Franchise Marketing Manager.
When existing home builders add Epcon to their current business model, they're granted access to decades of experience, feedback, and training that typically isn't available elsewhere. As a result, these Epcon Franchise Builders are able to access untapped potential.
Epcon Communities Franchising Inc. is America's 38th-largest home builder ("2014 Builder 100," Builder Magazine, May 2015) and the 19th-largest private home builder. Epcon and its Franchise Builders develop communities of ranch-style, low-maintenance homes that are popular with 55+ buyers — a demographic that Metrostudy projects will drive new home sales in the United States for many years to come.
Expanding the horizon for small custom home builders
Pat McKee, owner of North Carolina-based McKee Homes — a traditional single-family home business — has been an Epcon Franchise Builder since 2007. His history with Epcon underscores the homebuilding franchise's ability to help bolster business for small custom home builders.
"We have grown rapidly over the past three to four years in not only our Epcon franchise business but our other traditional single-family homes," Pat says. "We sold close to 100 homes last year; we'll sell close to 150 this year. We're becoming a large regional builder in our area. We could not have done that without the experience and support from Epcon.
"The process of building, marketing, and selling a home is the same whether it's an Epcon home or a traditional, single-family home," he says. "For us to get exposure into all the things that Epcon offers and be able to take that and translate that to the rest of our business has been phenomenal. It's access to sharing and information that my local competitors don't have. I really think our business has grown and we've been exposed to the things we have because of our relationship with Epcon."
Epcon Franchise Builders enjoy wealth of experience, training
The abundance of training and support Pat has received since becoming a Franchise Builder has also given him an upper hand when it comes to sales and marketing strategies.
"The other local home builders don't have access to world-class sales training like I do — to world-class marketing, to sharing of building practices among franchisees all across the country," Pat says. "It's sort of a secret weapon we have that we've taken advantage of, and we use that to translate into the rest of our business.
"One of the things that I always saw lacking about most home builders is sales and marketing experience," he says. "You can build a great house, but if you can't sell it, what good is it?"
A homebuilding franchise with a proven track record
Epcon's ability to build and evolve their product for nearly 30 years has allowed them to understand the market and demographics, and they are constantly watching how the market is changing. Epcon is a builder, too, and the corporation serves as a sort of Research and Development lab for its customers.
"As an individual builder, you don't have access to that broad scope of knowledge," he says. "You think you can come in and design a two or three-bedroom, single-story house and it will sell and it will work. Sure it might, but it could be so much better if you had access to focus groups and a constantly evolving product to meet the demands of what the latest consumers want.
"If you're looking to invest in a franchise and your motivations are correct; you want to get into a market or product segment you're not in right now; you think that the active adult market's going to boom over the next five to 10 years and you want a play in that –– that would be a reason to get into a franchise with Epcon. Secondly, if you could use some help on the business support and don't have that expertise or support locally, that would be another reason to get involved with Epcon."
Learn more about Epcon
For in-depth details about Epcon Communities Franchising Inc., download our free franchise report. You can also learn more by visiting our research pages.