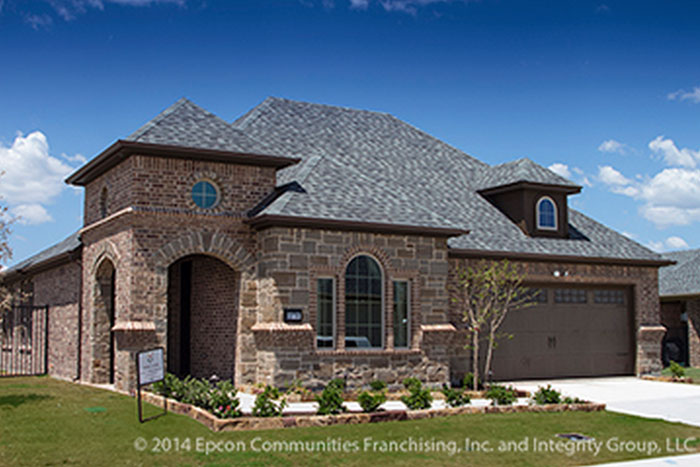 Texan entrepreneurs, developers, executives, investors and builders sought for business opportunity
Epcon Franchising announced today that it's expanding its Texas franchising market focus to specifically address an identified housing deficit for adults who are 55 and older. This expanded market focus has resulted in Epcon currently seeking individuals interested in becoming home building franchise owners in Austin, Dallas-Fort Worth, Houston and San Antonio, which are among the fastest-growing U.S. housing markets.
An estimated 24 percent of all new home purchases within the next five to 10 years will be made by people 55 and older (Source: Metrostudy) who want an alternative to remaining in their current home or moving to a retirement community. However, recent Epcon research, conducted by Metrostudy, shows a gap in fulfilling this need, particularly in the Texaplex region. Dallas-Fort Worth and Houston have the most significant deficit for this demographic in the United States, while Austin and San Antonio rank nine and 13 respectively.
Epcon's solution to address the Texas boomer housing gap is a franchise model that provides individuals the opportunity to build and develop low maintenance, single-story condominium homes designed to meet the unique lifestyle of older, active adults.
"We offer franchise owners the ability to tap into our award-winning designs and foresight to focus on the 55 and older age demographic," said Phil Fankhauser, Epcon's co-founder and CEO. "By bringing this system to Texas, corporate, real estate and construction industry executives have greater potential to turn an underserved market into a business opportunity."
The Epcon franchising system has already proven successful in Texas for brothers John and Steve Delin, of Integrity Group, LLC. Their Epcon community broke ground in late 2012 in Keller, Texas, a suburb of Dallas-Fort Worth, and resulted in 60 non-contingent contracts the first year it was open. This success has resulted in a search for additional locations to expand.
"We've had steady interest since we opened our doors," said John Delin. "Epcon offers a niche in the market that, so far, no one is touching."
About Epcon Franchising
Headquartered in Dublin, Ohio, Epcon has been building homes that are popular with 55+ home buyers for decades. By leveraging its proven designs, technology and marketing and sales resources, Epcon Franchise Builders are given a competitive advantage to build smarter and scale faster. Reach out to our team to get started on your journey to becoming an Epcon Franchise Builder.