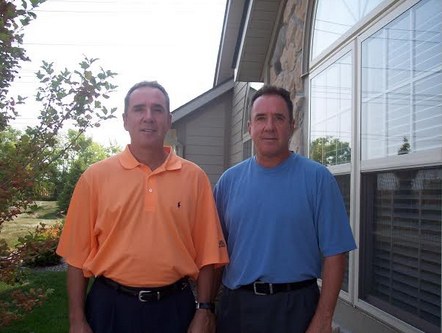 Twin brothers invest in an Epcon homebuilding franchise to stake a lucrative claim in the 55+ building market in Indianapolis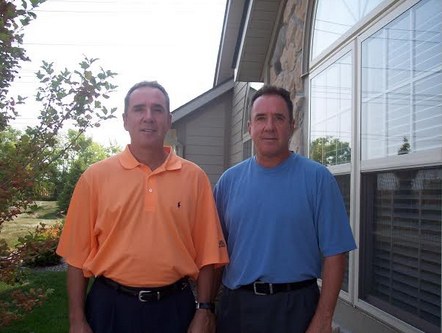 Before twin brothers Terry and Larry Neer started developing Epcon Communities around Indianapolis, Larry was a sales and marketing pro and Terry was a custom home builder. Those backgrounds gave the brothers a strong perspective: Larry was trained to spot great sales opportunities, and Terry understood the complexities of the construction industry.
When the brothers started to notice Epcon Communities popping up in the Midwest, they recognized a huge opportunity. Few builders were developing communities that appealed to buyers looking for low-maintenance homes with a lot of amenities, and since the Epcon home building franchise was willing to share its plans with Franchise Builders, Terry Neer would be able to follow a roadmap for moving from building custom homes one at a time to developing entire neighborhoods.
This is Terry's story.
How long have you been with the Epcon home building franchise?
I had been a custom builder since 1986, but in Columbus, Ohio, so I was very familiar with Epcon and knew (Epcon co-founder) Philip Fankhauser. I got into building with Epcon in 2002 along with my twin brother, Larry.
Why did you want to change paths in your building career?
If you look at the size of the empty-nesters generation coming down the pike, it was a logical decision. They are our primary customers, and our homes appeal to those downsizing empty-nesters. Our buyers are coming out of homes, for the most part, that are larger and more expensive than what we are selling them. Their kids are in college, and they don't need a four- to five-bedroom home anymore — but they still want a personalized home. They also want to be able to lock the front door and leave for a month, and come home to where their yards have been taken care of. They can have the amenities and the locations they want; they don't have to give up anything — except the work.
We also offer a bonus suite.  So, if one of the kids is still in college and wants to come home, they can come in and have their own place. They can be totally contained, with a little kitchenette, a full bath and full bedroom and living room.
What made you decide to become an Epcon Franchise Builder?
I wanted to take advantage of Epcon's expertise in this particular market. They do the architectural research. They build the homes to make sure that they work well. Then they release those home plans to us, along with all of the marketing materials, the websites, the advertising — all of that stuff put together.
What do you think sets the Epcon home building franchise apart from other opportunities?
Epcon is a brand name. They want customers all over the country to know that when you drive into an Epcon community, that you know it's an Epcon community. They have that now.
They build homes and they develop communities that offer an experience that you cannot get from any other builder. The communities are very well thought out — everything from the signs, the depth of the yards and the materials used on the homes to the way community by-laws are written. They don't just offer you a design and say, "Go build somewhere." It is a total package.
Lenders love the product; they know how well it sells. Epcon has done the work to make sure that it is branded properly and advertised properly. When you walk into Epcon community you know what you are getting.
What does it take to be an Epcon Franchise Builder?
You have to be willing to follow the guidelines and the blueprint that Epcon gives you.
Do you have a typical day?
I am a half owner, and my background is construction. I deal with customers and subcontractors. The oversight of everything that happens, construction-wise, is my forte. My brother handles all of the marketing, sales, hiring and advertising. He's my twin brother, and we have been close all of our lives. His work experience just happens to be in sales, and mine just happens to be in construction.
Listen to Larry Neer's Story
What is unique in terms of the support that Epcon offers their Franchise Builders?
From construction design to marketing materials to getting ready to do another community, they are there with support. I am right now sending a few questions to corporate so they can help me answer some questions from local council members. They have built 60 or 70 communities, where I have built three or four. So, I use their experience to make sure I get the right answers. We have two communities that are complete, and we are in the process of zoning a third in Indianapolis.
What do you personally like about the business?
I get up in the morning, and I do something that I love to do. Isn't that really what it's all about? It's rewarding because it is meeting a need that not just anybody is able to meet. I am really proud of the homes, because the designs are so unique.
What has signing with Epcon allowed you to do that you might not have been able to do otherwise?
This is a high-risk, high-reward life. If you build the wrong thing in the wrong place at the wrong time, you can have the door slammed on you quick. If I was still building high-end custom homes, I doubt that I would be in business any more after going through the housing downturn. Those homes were not selling at seven figures like custom homes used to. If I had been sitting around holding a couple of those for three or four years, I might be washing windows by now.
Would you recommend an Epcon franchise to others?
I would, and I have many times. You can pay your fees and still do so well. Epcon's grouping of national accounts for everything from windows to engineers to lenders really lowers your risk. People know the Epcon product and how well it sells, and that takes a lot of the work out of the typical development and construction experience. That's a pretty big thing.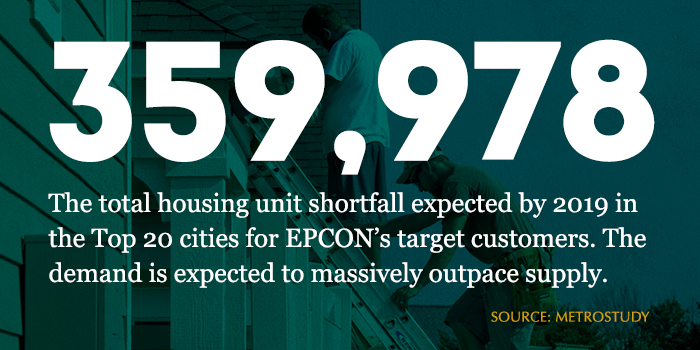 Learn more
Epcon Communities Franchising Inc. is America's 36th-largest homebuilder ("2013 Builder 100," Builder Magazine, May 2014), and one of the only home building franchise companies that exist. Epcon and its Franchise Builders develop communities of ranch-style, low-maintenance homes popular with 55+ buyers — a demographic that Metrostudy projects will drive new home sales in the United States for many years to come.

For in-depth details about the Epcon home building franchise, download our free franchise report. You can also learn more by visiting our research pages.